For expo and conferences, where partners, sponsors and attendees can meet.
An example of this metaverse can be explored here https://thenemesis.io/@impactNFT21
You can put some custom contents into our CONF-CON Metaverse. We suggest to use catchy images which include your logo. Depending on where the image has been showcased, please evaluate if place a short text, such as a payoff.

CHECKLIST
If you want to add your own contents into a template or temporary metaverse, you have to share with us all materials no later than 3 days prior to the metaverse publication date
| | | |
| --- | --- | --- |
| 1 | image for UI | 512 x 512 px |
| 3 | banners | 1024 x 512 px |
| 2 | totems | 512 x 1024 px |
| 2 | stream screen placeholders | 1920 x 1080 px |
| 15 | images for interactive corners | 512 x 512 px |
| 15 | optional images for interactive corner details window | 512 x 512 px |
| 9 | images for interactive stands | 1024 x 512 px |
| 9 | optional images for interactive stands details window | 512 x 512 px |
| 15 | titles for interactive corners | max 3-4 words |
| 9 | titles for interactive stands | max 3-4 words |
| 15 | descriptions for interactive corners | max 280 characters |
| 9 | descriptions for interactive stands | max 280 characters |
| 15 | calls to action for interactive corners buttons | max 2 words |
| 9 | calls to action for interactive stands buttons | max 2 words |
| 15 | links for interactive corner buttons | |
| 9 | links for interactive stands buttons | |
| 1 | general description of the event/activity | max 280 characters, in English |

MORE DETAILS ABOUT THE REQUESTED MATERIALS
The CONF-CON Metaverse allows you to show your own contents through:
- 3 BANNERS: please provide 3 (possibly different) images 2:1 size 1024 x 512 px
- 2 TOTEMS: please provide 1 images 512 x 1024 px
- 2 STREAM SCREEN PLACEHOLDERS: please provide 2 full HD images 1920 x 1080 px
- 15 INTERACTIVE CORNERS: please provide different contents for each corner!
- 9 INTERACTIVE STANDS: please provide different contents for each stand!

Each INTERACTIVE CORNER/INTERACTIVE STAND includes:
A. interactive corner: a main image 512 x 512 px
interactive stand: a main image 1024 x 512 px
B. a bright circle on the floor near the main image (nothing to do by your side)
when the user, with his avatar, walk on the bright circle, he can see the interactive corner details window which includes
C. a title of MAX 3-4 words
D. a short description of MAX 280 characters
E. a label of MAX 2 WORDS to show on the button to link an external web address
F. the web address linked to the button
G. an additional image (optional) 1:1
1 GENERAL DESCRIPTION of the event/activity in English, max 280 characters

Get in touch with our Team to request your Virtual 3D Ambients https://thenemesis.io/contact-us and discover more about metaverses, gameplays and events.

WHERE THE IMAGES ARE PLACED INTO THE CONF-CON METAVERSE
As follow you can have a preview of where the requested images have to be placed into the CONF-CON Metaverse.

UI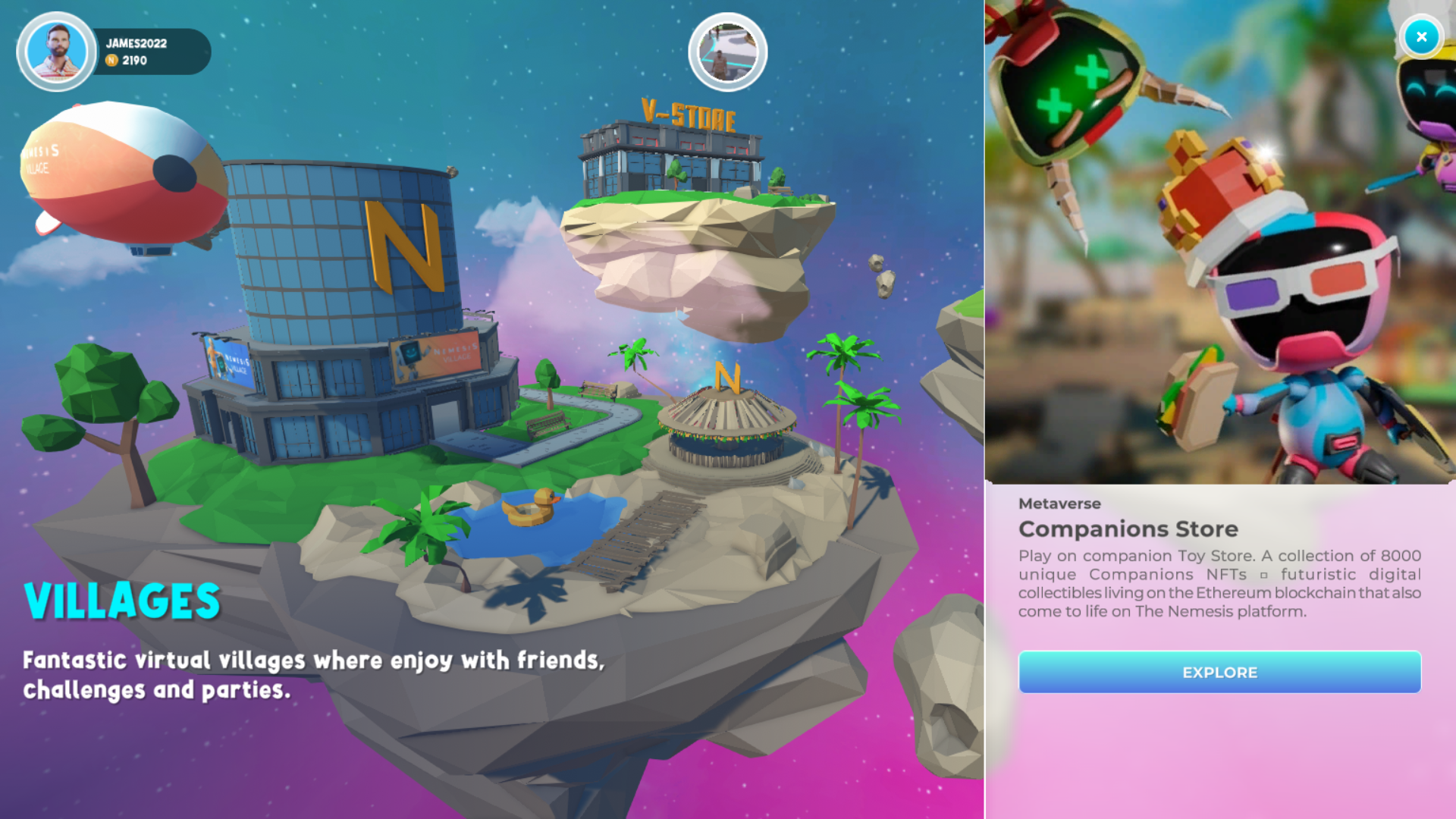 BANNER


STREAM SCREEN
INTERACTIVE CORNER


INTERACTIVE CORNER DETAIL WINDOW WITH TITLE, DESCRIPTION & BUTTON

INTERACTIVE STAND


INTERACTIVE STAND DETAIL WINDOW WITH TITLE, DESCRIPTION & BUTTON

TOTEM